The Good And Bad Sides To Most American Colleges
Smart About College
Travelling abroad to have your tertiary education can be an amazing experience because your way of thinking will change and you will grow as an individual. America is students' most preferred choice due to its high standard of education and the huge opportunities that abound. However, virtually everything in life has its own bad sides, so it is with every country.
So, before you completely make up your mind on getting admissions to any university in the US, it is essential that you understand and factor in the good and bad sides. Only when you carry out this test can you be able to draw a logical decision based on reasons.
The Good Sides To Most American Colleges
There are tons of quality universities and programs you can enrolled into in the United States. Also, most universities in the US sit at the top of ranking of the world's best universities.
Majority of the universities provide huge exposure to students via their exchange program and global tie-ups establishing a pedestal to learn better.
There are skilled faculty members that will guide students in their field of interest.See more on guidelines to help you choose the perfect course. You are sure of getting the best in this area because most universities employ the services of the best people in their respective specializations. Furthermore, you will have access to foreign professors for good interactions, thus a better education.
There are financial assistants available in the United States in the form of assistantships and scholarships.

Since the US is a developed country, students are exposed to the latest research work in all fields due to its advanced technologies and up-to-date facilities.

The education system in United States is very flexible, and remains one of the most preferred in the world. There are numerous options available in one particular area of interest. There is a wide spectrum of choices for students and freedom to specialize in uncommon and specific areas.

The education system in the United States is highly practical, which provides students with a high thinking abilities and problem-solving skills.
You can expect culture shocks, but it turns out positive. The exposure of students to a completely new scenario will broaden their thinking and acquaint them with different lifestyles.
There are tons of job opportunities available in and around the United States. It even gets more appealing, thanks to the quality lifestyle and diverse and safe society.
Education in America focuses on developing students in all aspects. Students are recommended to participate in various outdoor events and talents are acknowledged and nurtured along with the education.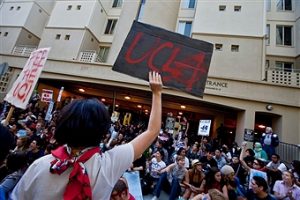 The Bad Sides To Most American Colleges
There is a gradual increase on the cost of education in the US. The dollar is gaining more power in the market giving rise to high cost of tuition. Even with financial aid, the cost of education in the United States is still somewhat expensive to afford.
There are many states in U.S.A and each has its own unique curriculum of courses. This leads to different standards of education.
Some certain job sectors turn down students that schooled abroad due to their high education profile and skepticism over the commitment of the students.
If you school abroad, in most cases you will be away from home which will make you feel lonely. It is quite difficult to be away from home especially if the excitement of the new environment fades away, and will lead to homesick and feeling lonely.
Schooling abroad is competitive and highly challenging. So for you maintain a top spot, you must learn to conquer the challenges.